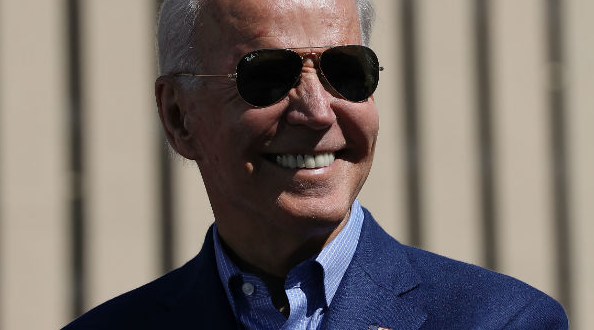 Biden's Blind Optimism Gives Him Rose-Colored View of China
Blind optimism is downright dangerous when dealing with the aggressive, expansionist regime in China — but Joe Biden is a one-trick pony, and wishful thinking has always guided his dealings with the communist regime in Beijing.
The former vice president has always been a sucker for the Communist Chinese Party (CCP), and their blatant exploitation of that naivete doesn't seem to have changed his mind a bit.
"The United States welcomes the emergence of a prosperous, integrated China on the global stage, because we expect this is going to be a China that plays by the rules," Biden told former Chinese Communist Party secretary Jiang Zemin almost two decades ago during an overseas trip as chairman of the Senate Foreign Relations Committee.
Time has proven this to be a fantasy; since then, the Chinese communist regime has committed and continues to commit some of the most heinous human rights violations on the planet, including placing ethnic minorities in concentration camps and subjecting them to forced sterilizations, violently suppressing its own citizens' basic freedoms, and wrecking families with the infamous "one child" policy that led to the slaughter of millions of innocent children before it was finally scrapped.
Beyond their own borders, China has been intent on controlling its neighbors by force, using what U.S. Secretary of State Mike Pompeo calls "rogue" bullying tactics to acquire land and other resources.
Instead of apologizing to the U.S. for lying about COVID-19 and silencing whistleblowers who tried to warn us of the pandemic early on, the Chinese government deflected blame and instead accused the U.S. of being responsible for the virus.
Beijing even threatened to kick American media out of the country unless those outlets promised to cover the regime favorably.
Biden still won't admit these things.
As though to fulfill some kind of sunk cost fallacy for the time he spent pandering on behalf of the Chinese government, Biden still insists that China poses no threat to Americans' jobs and freedoms, proclaims that the Chinese people are our friends, and claims that a competitive Chinese economy is in our best interests.
He has demonstrated his commitment to this cause throughout his decades in government.
As both a senator and as vice president, Biden supported globalist trade deals that sent millions of blue collar American jobs to China, destroying entire communities across the United States in the process. Biden also helped grant Beijing "most favored nation" trading status, paving the way for China's entry into the World Trade Organization (WTO), which contributed to the loss of over 60,000 American factories.
Biden also bristles when anyone else — including President Trump — stands up to China for putting Americans' lives in danger. When the Trump administration issued life-saving travel restrictions on China early on in the coronavirus pandemic, Biden condemned the measures as "xenophobic."
When the president announced that he is suspending funding for the World Health Organization (WHO) due to its gross mishandling of the COVID-19 pandemic and complicity in China's coverup of the severity of the virus, which led to the loss of so many American lives, the Democratic nominee insisted he would reverse that decision if elected.
Perhaps Biden is naive for still believing China's totalitarian leaders have good intentions.
Perhaps he is simply afraid of standing up to the far-left radicals in his own party.
Regardless of his motives, Biden is not the leader Americans need to defend us from China's economic and geopolitical aggression.
Jason D. Meister is an Advisory Board Member of Donald J. Trump for President Inc. and Managing Director at Ackman-Ziff — a 90-year-old, privately held capital advisory firm — and frequently appears on national television and radio broadcasts, including various interviews on Fox News, Fox Business Network, Wall Street Journal Live, Bloomberg, One America News, Sky News, Newsmax TV, Huff Post Live, and Sirius XM. Mr. Meister is a successful investor, developer, and published op-ed author. He has written for various publications including The Epoch Times, Washington Examiner, The Daily Caller, Townhall, Fox News, Fox Business, Newsmax, Real Clear Politics, Real Clear Markets, American Greatness, Tennessee Star, The Ohio Star, and the Minnesota Sun. Twitter: @jason_meister.