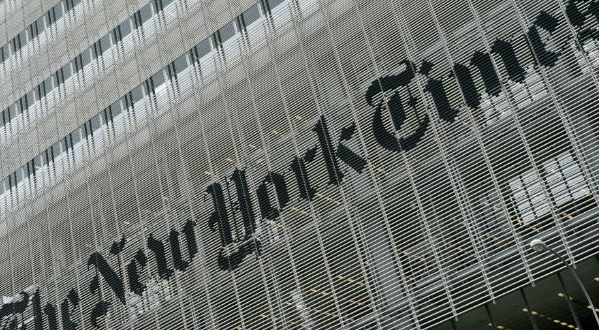 New York Times Story Only Proves Trump Was Telling the Truth
The very recent story in The New York Times story about Donald Trump's tax returns, if true, is certainly a bombshell — but not for the reasons that the Democrats and the liberal media think.
In an attempt to undermine the president's credibility, The Times successfully debunked some of the most preposterous attacks the Left has launched against him in recent years, proving that he was telling the truth about his taxes all along.
For the past four years, the Left has promoted a nonsensical conspiracy about President Trump, insisting that he was hiding his tax returns in order to conceal his financial ties to Vladimir Putin's Russia.
"Trump's tax returns would likely reveal just how deeply involved he is in Russia and with oligarchs close to President Vladimir Putin," two of the president's critics wrote in USA Today last year. "Charting Trump's Russian connections might shed light on Trump's inexplicable deference to Putin."
Despite all this scurrilous talk of hidden financial ties between Donald Trump and Moscow, however, the tax documents obtained by the newspaper appear to show no unusual business dealings or investments in Russia, which is exactly what the president has been saying since he was first accused of being a so-called "Russian asset."
The New York Times also confirmed that President Trump is, in fact, under an audit from the Internal Revenue Service, just as he has maintained since the 2016 election campaign.
"Also hanging over him is a decade-long audit battle with the Internal Revenue Service over the legitimacy of a $72.9 million tax refund that he claimed, and received, after declaring huge losses," the newspaper wrote.
"An adverse ruling could cost him more than $100 million."
As it turns out, these findings are perfectly consistent with everything that the president has consistently said about his taxes.
"Now, we're under audit, despite what people said," he remarked during a White House event last year. "We're working that out. I'm always under audit, it seems. But I've been under audit because the numbers are big, and I guess when you have a name you're audited. But until such time as I'm not under audit, I would not be inclined to [release my taxes]."
Of course, the president's critics have long suggested that Donald Trump was never actually under an IRS audit, and that he was simply making up an excuse not to release his taxes. Even his former attorney, Michael Cohen, told lawmakers last year that he didn't think Donald Trump was being audited.
"I asked for a copy of the audit so that I could use it in terms of my statements to the press, and I was never able to obtain one," Cohen said at the time. "I presume that he is not under audit."
President Trump has plenty of very good reasons to wait for the IRS to finish vetting his taxes prior to making them public — both Congress and the IRS are still in the process of determining how much he actually owes the federal government.
The Left has already shown that it will invent conspiracy theories in the absence of information about his taxes, and it isn't difficult to imagine what Democrats and the liberal media might do with partial information.
The Times finally exposed President Trump for who he truly is — a man who tells the truth about his taxes.
Jason D. Meister is an Advisory Board Member of Donald J. Trump for President Inc., and frequently appears on national television and radio broadcasts, including various interviews on: Fox News, Fox Business Network, Wall Street Journal Live, Bloomberg, One America News, Sky News, Newsmax TV, Huff Post Live, and Sirius XM. Mr. Meister is a successful investor, developer, and published op-ed author. He has written for various publications including The Epoch Times, Washington Examiner, The Daily Caller, Townhall, Fox News, Fox Business, Newsmax, Real Clear Politics, Real Clear Markets, American Greatness, Tennessee Star, The Ohio Star, and the Minnesota Sun. Twitter: @jason_meister.